"The opportunity to get outside and see the work that goes into conservation projects was both fun and informative." - Jacob Wendell, 2L
Wednesday, August 23, 2023
The interdisciplinary intersession course, titled "Wildlife and Habitat Conservation Law," ran from August 14–18 and is the first of its kind at the University of Iowa. The goal is to introduce law students to the law of species and habitat protection, focusing on animals and plants located in the Macbride Nature Recreation Area (MNRA). Throughout the week, students learned how state and federal laws such as the Endangered Species Act, Migratory Bird Treaty Act, Bald and Golden Eagle Protection Act and the Clean Water Act work in practice, from experts who apply these regulatory frameworks in the field.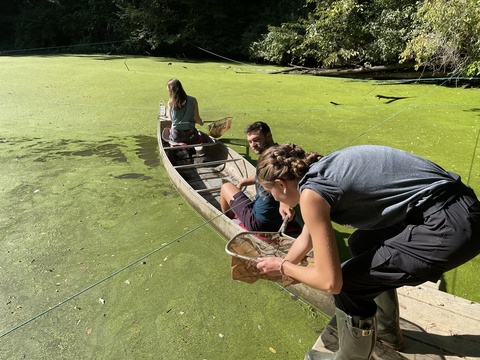 Learning from federal and state experts
UI WILD staff, along with their network of federal and state experts in land management and species and habitat protection, demonstrated to the class how they implement these laws through a range of practices. Students followed field experts into prairie, woodlands, and wetlands, which gave them a hands on look at conservation biology and wildlife ecology. 
"This course provided law students with a unique opportunity to experience environmental and administrative laws in action," said Ingrid Gronstal, Hubbell Environmental Law Initiative Research Fellow and course co-instructor. "The field instructors were able to demonstrate how legal and regulatory requirements, such as endangered species surveys, are carried out on the ground."
Both the class and fieldwork portions of this intersession were held at the Macbride Nature Recreation Area (MNRA). Each morning during the intersession week, students worked with experts across several research stations within MNRA to conduct fieldwork. The experts who joined the MNRA team during fieldwork sessions were from university departments, research groups, and government agencies, including: UI WILD, the Iowa Raptor Project, MNRA, the US Fish and Wildlife Service (USFWS), UI College of Education, State Hygienic Lab, and the UI Department of Geographical and Sustainability Sciences.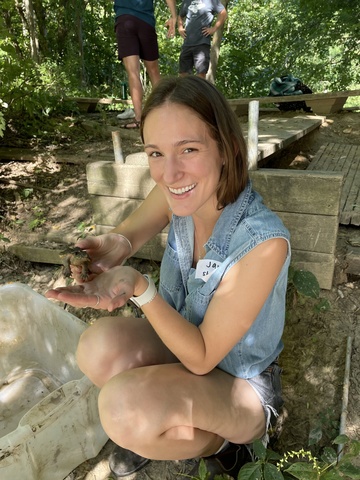 Throughout the week-long course, fieldwork sessions focused on learning various scientific methods employed by these experts, including:
bird banding, where scientists gently net birds like songbirds and migratory birds to measure and record

data,

place an ID

band

on

the birds, and release

them;

conducting

USFWS

survey protocols for various endangered

and threatened

species, including the rusty patched bumble bee

;

setting up bat survey techniques

used to assess the presence of

specie

s

a

t proposed wind energy sites and to minimize impacts to

these

species

;

sitting

in

hawk blinds, learning methods to lure and net

rapto

r

s

so

they can be banded for future monitoring and research;

conducting wetlands research, specifically benthic and water column surveys, electrofishing

,

and dip net surveys; and

setting up small mammal

trap

grids to research

the

vertebrate

diversity in both rural and urban defined ecosystems.

 
"This is my favorite course I have taken at Iowa Law," reflected Jacob Wendell, a second-year law student who took the course. "The opportunity to get outside and see the work that goes into conservation projects was both fun and informative."
"At the Iowa Raptor Project, and in all of our UI WILD programs, we are delighted when we can work with students with a diversity of backgrounds to awaken awareness, nurture appreciation, and inspire action for all things wild," said Ryan Anthony, Director of the Iowa Raptor Project. "In this course, our hope was to inspire these students to make informed decisions about wildlife and the land when they become fully fledged lawyers."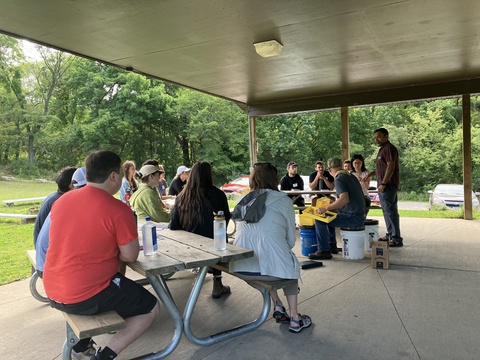 Robust discussions to connect field activities with the law
In the afternoons, students met with the co-instructors - Professors Roesler and Gronstal - along with the fieldwork experts from that morning to engage in classroom discussion to connect the field portion with relevant statutes, regulations, and case law. 
"What really made the course special was the comingling of law experts with conservation experts," said Wendell. "Having those perspectives in the room gave me a far deeper understanding of the law than a normal classroom experience would have."
At the beginning of the week, students picked a species that is listed as threatened or endangered. As they learned about wildlife protection law, they researched how laws apply to their selected species, as well as what challenges regulators, field experts, and regulated industry face in implementing these protections. Students also wrote journal entries reflecting on what they learned in the field and during class discussion.
"The goal of this course is for students to anticipate the kinds of questions regulators and field experts would ask in implementing or reviewing habitat conservation plans and other conservation measures for a protected species," said Professor Shannon Roesler, Faculty Director of the Hubbell Environmental Law Initiative and co-instructor of the course. "We also hope students learn what biodiversity is, why it is important, and how federal and state species and habitat protection laws further biodiversity."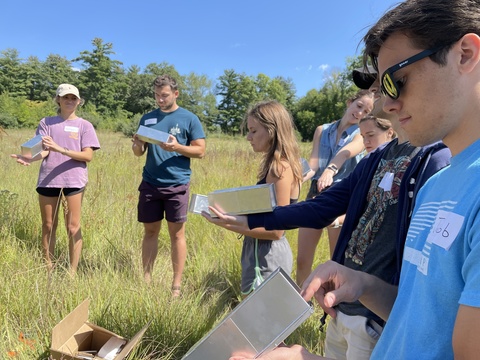 Making an impact
After recording and photographing the specimens throughout the week, students uploaded their work to the biodiversity mapping app iNaturalist, where experts at USFWS and other agencies can review the findings. One student uploaded several of their suspected rusty patched bumble bee pictures, and it was confirmed by several sources that at least two of the bees she found were rusty patched bumble bees. The confirmation of this species within MNRA could lead to specific conservation and land management decisions to protect the bumble bee population, which students explored in various discussions. 
"Learning about the law while being outside in nature and away from the computer screen was an unforgettable experience," said Alexa Stechschulte, third-year student who also took the course. "I will always remember conducting my first field survey and locating the endangered rusty patched bumble bee!"
As a culmination on the final day of the intersession, students met at Kinnick Stadium with campus and community partners to view the raptor flight training as a part of the Hawkeye Raptor Ambassadors program, which is a partnership between the Iowa Raptor Project, UI WILD, and Iowa Athletics. This joint wildlife conservation education initiative trains Harris's Hawks, Red-Tailed Hawks and Peregrine Falcons to fly over Kinnick Stadium during home football games, to highlight the importance of the conservation of birds of prey and their natural habitats. Intersession students watched the raptor training while learning about the associated regulations for this kind of public event, which features protected animal species.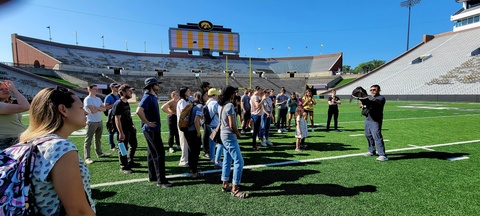 "This intersession course highlighted the importance of our local, state, and regional experts in furthering biodiversity and conservation efforts," noted Blake Rupe, the Program Director for the Hubbell Environmental Law Initiative. "This field course is a testament to the campus and community partners who made it possible."
For more pictures from the intersession course, see this article gallery.